California State University and CSU, Chico Policies and Regulations

Academic Colleges and Centers

The Academic Programs

Undergraduate Education

Graduate Education

Admission, Advising, Records and Registration

Campus Resources

The Community
Welcome to California State University, Chico!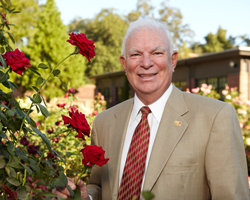 CSU, Chico President, Paul J. Zingg
This catalog will introduce you to the world of one of America's finest universities. Throughout its pages, you will learn about the people, programs, events, and services of a university guided by deep and abiding values and totally devoted to student learning and success. You will discover that we are especially motivated by a sense of public purpose and service that manifests itself through the knowledge we explore and apply, the values we proclaim and enact, and the obligations we recognize and undertake. You will find that we are geared in all that we do to earn the trust of our students and to serve the people of California.
We fulfill our mission in several ways, but most notably through a set of orientations that guide our behavior across the University every day. These include a holistic and integrated approach to learning, a strong sense of stewardship for the health and prosperity of our North State service region, the cultivation of conduct that fosters civic values and community engagement, and an appreciation for our beautiful physical home in the city of Chico, situated along Chico Creek, at the foothills of the Sierra.
You will find another orientation emphasized through this catalog, one that connects to, and informs, each of those noted above, and that contributes to building our educational community and adding to our distinction. This is sustainability, that is, a values-based set of practices and policies that recognizes we live in an interconnected world with responsibilities to meet our present needs without compromising the ability of future generations to meet theirs.
Sustainability is as much a process as a cause, as much a goal as an awareness. Its foci are many - a clean environment, a healthy population, a just society, a robust economy. It requires us to understand our responsibilities to the future and to recognize that we live in a "flat" world of competing ideas and values where no person or group has all of the knowledge necessary to address our daunting social, environmental, economic, and technological challenges. This is why sustainability is a most appropriate engagement for a university, where the quest for understanding and the application of knowledge defines the identity and purpose of such an institution.
Throughout this catalog, you will discover abundant evidence of what it means to be a sustainable university. From curricular design to faculty expertise, from "green" buildings to "Green Greeks," from our Strategic Plan to our management team, from the declarations we make to the commitments we undertake, Chico State is a place where sustainability defines our spirit and charts our future.
We seek partners in our story - students, faculty, and staff who will learn here, develop as leaders here, become wise stewards here. The future of our State and nation depends upon places like this. Welcome to the world of a vital place. Welcome to the world of Chico State!
Chico State is a place where sustainability defines our spirit and charts our future.
Paul J. Zingg
President